Online Banking for Corporates - MultiCash On
One harmonized user experience across all functions
Make online banking an experience for your corporate clients. Quick and easy to set-up, the MultiCash On product suite offers a full range of flexible Transaction Banking services, designed to ensure a smooth customer journey. Users can, for instance tailor their own Balance and Transaction reports as needed, move easily between current and historical data, or quickly locate information via powerful filtering and search functions. Financial managers particularly appreciate the Cash Manager, with a customizable forecasting option and a liquidity planning tool to ensure cash shortfalls are avoided.
Payments business has also never been easier - even when users are working with accounts in multiple countries (requiring multiple local formats). Following our unique "Smart Payment Window" approach, all country-specific functions, features and validations run in the background. This ensures that clean payment files are generated which banks can directly process. Intuitive navigation guarantees that users are guided intelligently to complete the relevant fields.
Be ready to move directly to meet clients' expectations as these emerge. One capability increasingly expected by today's corporates is to work in real time, for instance to check balances, set up standing orders or make Instant Payments. At the same time, new functionality is demanded, e.g. for Trade, Foreign Exchange or Bank Account Management. Omikron's portfolio is designed to cater for all these needs and be easy to scale up whenever necessary.
Optimized User Journeys
Welcome users to the application with their own personal dashboard, comprising a summary view of the main interests and activities, chosen individually from a pool of widgets with different visualization options. The option to work with one or more personal dashboards is just one of the user experience features built by us following the "UI first" approach, based on invaluable input from end users at corporates and banks. This has resulted in an intuitive and easily navigable user interface with a strong focus on personalization. At all points, users are able to use filters and sorting option to configure and store personalized views and reports, or set up "Favourites" for quick access. Options for transactions include interactive forms, with active helps and tooltips for guidance, and transparent warnings / messages in case of incorrect entries. In addition, alerts and notifications are directly visible and interactive features allow the user to contact the bank helpdesk or enter into a chat with specialist consultants. The tab-based design of the interface allows the user to work in parallel with several functions, while time-consuming tasks such as uploading a large payment file run in the background.
From Plug & Play to Deep Integration – Match the Solution to your Scenario
The solution is much more than just another e-banking application. The platform is prepared for integration into a dynamic ecosystem, using a range of interfaces (APIs), each one supporting certain business functions. These can be accessed from any location with one or more applications, e.g. a comprehensive portal solution or an app.
The open architecture allows third-party APIs to be easily integrated. Popular examples include options for chatting with customers or video identification. Likewise, as a bank, you can provide APIs to third parties.
In this way, the solution ensures maximum flexibility and versatility in the customer front-end, so that each bank can use the system optimally based on its individual strategy:
Follow the "out of the box" approach: ensure a quick time-to-market by using MultiCash On as delivered, in Omikron's own, modern and intuitive user interface. Of course, APIs for third-party services can be flexibly integrated into the bank portal to extend the functional portfolio whenever needed.
Use MultiCash On within a Single Sign On infrastructure for easy access across multiple application. Even when the business logic and presentation layer are provided by different providers, the flexible customization options make it possible for the customer appearance to be as identical as possible and fully tailored to your Corporate Identity.
Integrate Omikron's functionality within the client front-end of another provider – Omikron delivers the "engine" and banking functions required in form of an extensive service catalogue (private services). This option allows all or parts of Omikron's powerful functionality to be seamlessly integrated in a bank's specific e-banking portal.
Taking the next step – Multibanking services
Driven in part by services offered by new market players, corporates are increasingly looking for banks who can provide a central entry point for digital banking, providing account information and transaction initiation from all the corporate's banks. MultiCash On includes a Multibank Connector designed to meet this requirement.
At the heart of the solution is a communication engine, supporting automated, parallel connections to different banks. To ensure that all banks can be accessed, market standards are used: EBICS, MCFT and XS2A.
The resulting solution provides all parties with significant benefits:
As the bank operating the multibanking service, you meet a future key requirement of corporates and become the central point of entry for your customers.
The corporate customer who is familiar with multibanking from e-banking clients such as MultiCash will now find the expected functionality within your bank's portal.
For other account-holding banks, there is no difference between customers connecting via the Multibank Connector and those who opt to use an offline client application.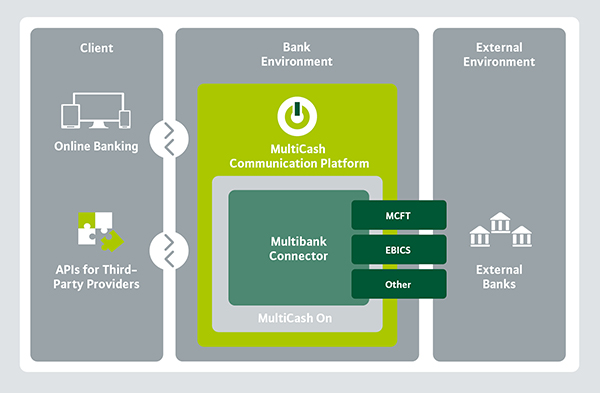 For operational business, the entire suite of online banking services can be used for all banks, providing the bank in question supports the particular service required. Your customers can, for instance check account information and initiate payments for third-party accounts within the banking portal. Omikron's product suite includes functions for forecasting and liquidity management, which are particularly valuable when used across multiple banks and accounts. Cross-border transactions or local payments in one or many of the national variants supported also add value in this context.
Your benefits with the MultiCash On suite at a glance:
Powerful set of functions to strengthen your corporate business
Consistent user journey and intuitive interaction for high customer satisfaction
Flexible and smooth integration of APIs for a wide range of functions to reap the most benefits from the emerging open banking world
Comprehensive online banking portfolio, including multibanking services, enabling you to provide the central entry point for your customers' digital business