Corporate in-house e-banking – powerful, integrated and standardized
MultiCash® is a powerful e-banking solution that is implemented in the IT infrastructure of corporates and forms a bridge between the corporate's in-house systems and its connected banks. Popular functions include multibank communication, national and international payments and consolidated cash management. All functions can be seamlessly integrated with the company's accounting and/or ERP systems.
MultiCash supports multiple formats and languages for both Windows and browser-based users, and is ideally suited to form the basis of a group-wide payment factory.
For many banks, MultiCash remains and strategically important application, delivered directly to their corporate customers, in some cases under their own brand ("white label"). In this way, you as a bank can usefully complement your online and mobile banking options and strengthen the relationships with your corporate customers in the long term.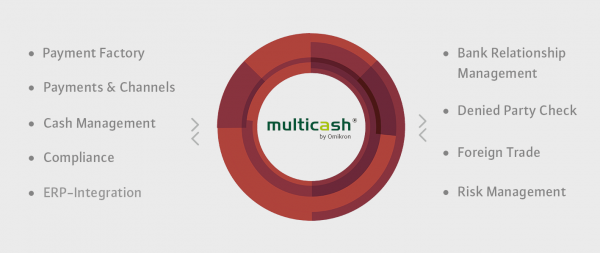 Your Benefits with MultiCash at a glance:
Provide a proven, proven and powerful solution to meet the needs of your corporate customers who require multibanking and/or close integration with their internal systems
Significant advantages for your customers from the flexibility and the international footprint, with several communication standards and a wide range of payment formats and languages
Meet customer expectations for data protection and compliance by adhering to the highest security standards and audit requirements
Transparent and flexible interfaces to ensure a smooth and easy integration with a corporate's in-house systems
For more information about the comprehensive range of services covered by MultiCash, please refer to our corporate product page: E-banking with MultiCash: international, flexible, secure.