Denied Party Check - Sanction Screening, Anti Money Laundering and Embargo Check in one solution
Filter suspicious payments before submitting them to the Bank
Compliance with legal conditions plays an increasingly important role in payments business. Corporates have to match outgoing transactions against sanction lists as a counter-terrorism measure.  Parties which fail to comply face both legal consequences and a significant reputational damage if the case becomes public knowledge.
With the "Denied Party Check" add-on for the MultiCash® payment factory, you fulfil the legal requirements and incorporate the checks within a centralised and integrated electronic banking system, where all transactions can be monitored.  All transactions delivered by your back office system are taken into account, alongside any payments entered manually. The data matching is designed to minimize the manual effort.  The Denied Party Check, for instance, does not only allow for verifications against sanction lists but also matches non-suspicious transactions against "Whitelists" of known and trustworthy partners.
In the case of a suspicious transaction, the whole payment file is not rejected, but the file is split, so that any compliant transactions can be submitted to the banks. At all stages in the payments process, a full logging is made in line with audit requirements. In addition, a range of reporting functions are available.
The Denied Party Check add-on is a plug & play solution, which can be integrated into your existing MultiCash Payment Factory without significant effort.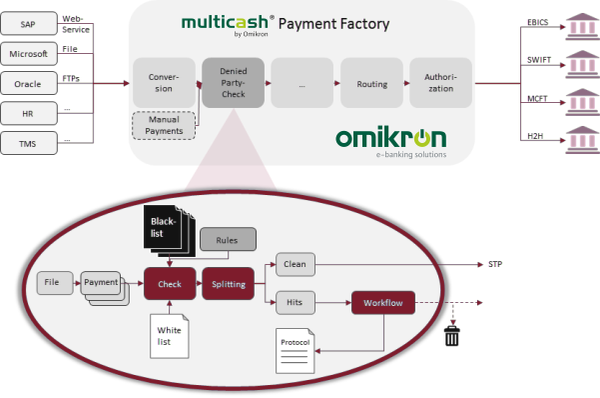 Characteristics and Options
Fulfilment of regulatory requirements
Fully integrated solution for your central banking system
Automated verification of all transactions against various selectable sanction lists
File splitting in case of a match and automated processing of any uncritical transactions
Audit-proof logging, with comprehensive reporting functions
Minimal project effort using plug & play solution

For information on our overall solution for managing banking relationships efficiently (accounts, powers of attorney, fees and compliance checks), please visit our Bank Relationship Management page.