Artificial Intelligence with SmartStream Air
Large volumes of data in a huge variety of non-standard formats and structures, are still checked for accuracy and completeness using spreadsheets – or the tasks are not done at all. SmartStream Air provides organisations a tool that can match any data for any reason in an instant.
SmartStream Air is cloud native, behaves like a consumer app, requires no training or IT skillset to use and is the fastest AI data quality application available today. Cloud native and ready for use on day one SmartStream Air is the fastest AI data quality application available today.
Why SmartStream Air? 
Match any data for any reason in an instant
The fastest, cloud native, pure AI data quality application
Data compared in seconds, AI delivers immediate results
Secure cloud hosting
Learns & improves over time
User friendly, no configuration or training required
Because when it comes to your data, you don't want to miss a thing...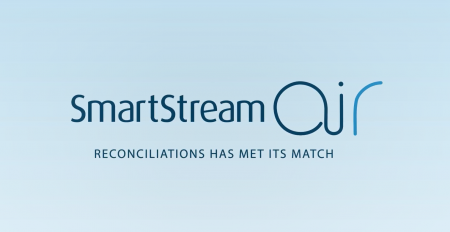 How can SmartStream Air help you?
Let's say an external counterparty, customer or partner sends you a file of transactions you need to compare against your own records, but both sets of data are large, highly complex and are in different formats? Usually, tackling this type of task takes a great deal of human effort or requires IT projects.
With SmartStream Air, loading information is straightforward. You can drag and drop files manually, or use an API for automated submission. Whatever format the data is in, or however low its quality, AI will cleverly read, analyse, learn and identify what needs to be compared, and then presents a list of unmatched records or disputes for investigation. It all happens in seconds.
Burdensome tasks like Excel automation, transactional reconciliations, checking data between systems, validating regulatory reports and comparing mainframe database files for IT system migration or transformation projects, become easy using SmartStream Air.
How does it work?
SmartStream Air is an entirely unique innovation and represents the very latest AI and machine learning technologies to compare and validate data.
The solution allows you to load data in practically any format. It then analyses the data, maps it, and with self-supervised learning it learns how the files and fields correlate to one another. Auto-generated rules – which can be verified and tweaked if necessary – then kick in, followed by some more ultra-fast comparison AI and, within seconds you will have an extremely high quality set of results or exceptions to investigate.
SmartStream Air requires no training, no certificates, no prior knowledge of the data you wish to validate. The AI does the heavy lifting for you and the more data you feed it the better it performs. In fact, we can demonstrate how the solution works in less than 15 minutes.
How can I get started?
SmartStream Air is a hosted, cloud native, SaaS application. Go live is immediate, you will have access the same day you choose to get started. There is no IT burden or cost for you to consider or budget for. We take care of all of the maintenance and upkeep, hardware and software upgrades, and we release new features every 4-8 weeks to our customers.
SmartStream also happens to be a certified AWS partner, which means our hosted solutions are covered by the most robust in information security standards. We were recently certified for PCI-DSS certification, at the highest level to serve card and digital payments, and have also attained SOC 1, 2, 3, ISO27001 and ISO27002 standards. SmartStream can also offer hosting in any geography to meet local regulations.
Alongside ease of use we can also provide flexible and simple pricing models that fully captures the total cost of ownership.
Data Management is a Significant Challenge
High volumes of low quality data, multiple external and internal data sources and format proliferation makes traditional, IT project based onboarding models unsuitable for a huge variety of data integrity checks and tasks. SmartStream Air was created to provide the solution to this problem and challenge it in these three areas:
DELIVERY MODEL
Web-based, ready to go, no installation - no need to implement, go live same day, switch on, ready for use
Cloud native, SaaS only, no upgrades, no support needed, no burden
TECHNOLOGY
Drop in low quality data, any shape, size or structured format
No training is needed, SmartStream Air leverages AI to perform the task end to end and behaves like a consumer app
AI technology completes a process usually measured in weeks and months in seconds
SCALABILITY
No constraints to scaling volumes and adding new functionality – continuous innovation
Total cost of ownership is transparent and can be controlled
Interested in SmartStream Air? Please get in touch with us today.